Congratulations on deciding to learn how to earn an income online and make yourself more financially independent.
Affiliate marketing is one of the few ways that normal people can make above average incomes from home with only minimal risk. As long as you're willing to put in the time to learn the trade and work hard, you can potentially make a very healthy income by promoting offers through Shareasale. The Chinavasion Affiliates Program is currently run exclusively through Shareasale, and it's a great way for you to share in the success of China's most popular and highly converting online shop.
Among affiliates, Shareasale is THE favorite network. In addition to offering over 2500 merchants to promote, they have a strict no software policy that prevents your commissions from being stolen by affiliates who unfairly use toolbars and spyware to overwrite your commissions with their own.
Shareasale also allows "deep linking" to all pages of their merchants. While many affiliate networks only make it easy to link to a few pages on each merchant's site, Shareasale has a tool that lets you create an affiliate link to any page. That means that if you're promoting an mp3 player, you can link directly to the page that talks about that mp3 player rather than sending users to the merchant's homepage. That makes the user experience much smoother, increasing your sales conversions and commissions.
Ready To Sign Up Right Now?
We recommend signing up first in the Chinavasion Affiliates Guide. This way you can learn how to make your signup at Shareasale successful and find your way around with our easy to follow instructions.
However, if you are ready to jump straight in, keep reading.
To sign up with Shareasale, you'll need to visit their homepage, Shareasale.com. From there, select the "Affiliate" option and click "Sign Up".
In the course of your application, you'll be asked for basic personal information, along with your website URL and some information about how you intend to market Shareasale merchants. Be sure that all the information you submit is accurate, as inaccurate information could result in not getting accepted to the network or not getting paid. The Chinavasion Affiliates Guide provides you with full details of how to get through the somewhat complicated and strict registration procedure at Shareasale.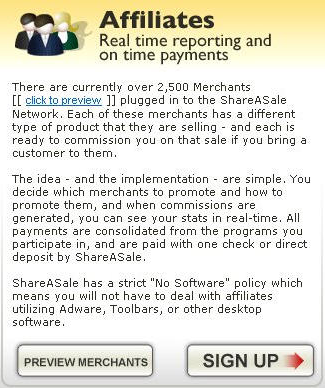 Enter Your Website…
When signing up at Shareasale, you have to enter the domain name of the website you own. This is somewhat pointless in our opinion since there is no particular reason that an affiliate needs or should have his own website. Anyway, Shareasale are using that as a quality score on your application to make sure you are a serious applicant. Presumably their reasoning is that if you know how to create your own website, you will have a chance of being a proper affiliate.
To increase your chances of getting approved, you'll need a domain that you actually own, rather than a free website. You'll also need to create an email account that ends in your domain name. If your site were MyAffiliateDomain.com, you'd want your email address to look something like yourname@MyAffiliateDomain.com. That helps the network verify that you actually own the domain.
There is no requirement that you use this website for your affiliate promotion. Equally there is no restriction on using other websites to refer traffic to affiliate offers. This part of the registration requirement exists purely and simply as a way of Shareasale rejecting timewaster applicants.
Intended Method of Promotion….
You should also ensure that you have some idea about your intended method of promotion. If you fill out your application and say, "I don't know how I will promote things yet," your odds of getting approved aren't good. Even if you're truly not sure yet, it's better to at least come up with an educated answer so you can get into the network. You're not required to use a single specific method of promotion, and you'll have plenty of opportunities to your craft once you get accepted to the network.
The most common basic methods of affiliate promotion are:
email
SEO
PPC
social media.
If you're not sure how you'll be promoting offers, try using a search engine to learn enough about the different methods that you can choose one of these general answers to write a sentence about. You don't need to write an essay, just something that sounds like you have a clue.
You can always use other promotional methods later if you change your mind, but that lets Shareasale have some idea about your intentions. If you have a background in sales, marketing, or technology, that's also something worth mentioning when you apply.
As with the website entry above, no one from Shareasale is really bothered about what you do or how you do it after you get approved. So again this step of "intended method of promotion" is just another way for them to reject applicants they feel are not worthy…
Incentives?
You'll also be asked whether you use incentives to market the merchants. Affiliates who use incentives offer something in return when people make purchases through their affiliate links. For example, the affiliate may receive a 20% commission from a merchant and offer 10% back to the customers. In other cases, they may offer a certain amount of money in exchange for customers filling out lead forms such as car insurance quotes or contact forms for various professional services. In general, this practice is not well-liked by merchants, and it may limit your ability to get accepted by some. Still, you must be honest if that's how you intend to promote offers. If in doubt just say no.
I'm in!!
You know if you are successful in your application after an email comes from Shareasale confirming their manual evaluation of your application. Every application is looked at by one of their staff.
Once you get accepted, you can get started promoting merchants right away. Just head to the "View and Search Merchant List" link in your user dashboard and you will have over 2500 merchants to choose from. Pay especially close attention to those with the "Auto Approve" logo, as those merchants are willing to work with all affiliates and they'll let you get started immediately.
Naturally the first place you should go after logging in is to sign up for the Chinavasion Affiliate Channel.
Good luck!