One of the most difficult parts of affiliate marketing is deciding how you'll get started with your promotions. Making money in affiliate marketing is all about capturing attention and directing your traffic, and there are a huge number of ways you can do this. To help you get started, we've put together a quick overview that outlines the major methods of promoting affiliate offers.
Pay-Per-Click Advertising:

If you've ever used a search engine, you've most likely seen the ads that are displayed around the top and sides of the regular search results. These ads are sponsored by companies who bid on keywords, and they're paid for on a per-click basis.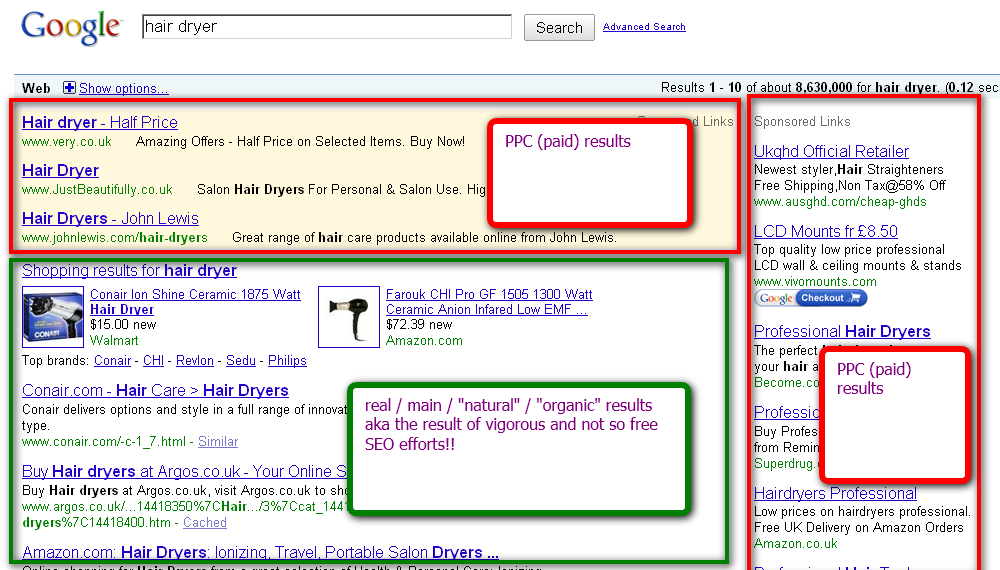 You don't have to be a big company to use pay-per-click (PPC) advertising, though. Anyone can use Google, Yahoo!, or Bing to bid on keywords that are related to the products they're promoting. You can also buy PPC ads from numerous smaller sites and ad networks. Social networking sites like MySpace, Facebook, and LinkedIn also have their own PPC advertising platforms, which tend to be very accurately targeted but much more expensive per click.
When using PPC, you typically send your traffic to an intermediary page before sending the traffic off to the actual merchant. In fact, many PPC networks require that you have your own page to receive the traffic before going to the affiliate link. As you can see from the diagram below, the traffic in this case flows from a PPC ad to a review post on a blog and then over to the original merchant.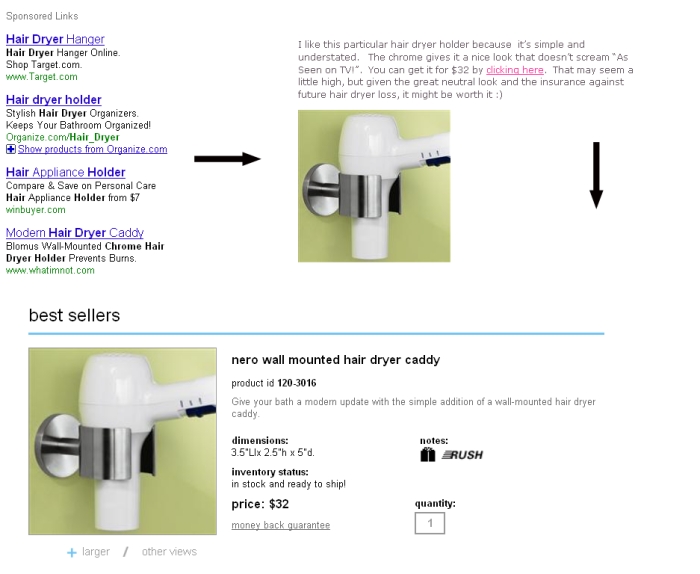 If you prefer, you could also send your PPC traffic to a coupon page or almost any other type of page that promotes the offer you've chosen.
In the Chinavasion Affiliates Program you are allowed to send traffic from PPC directly to Chinavasion (through your Shareasale link of course) as long as you are within our keyword rules.
PPC: instant, expensive

SEO: slow, cheap
Search Engine Optimization:

Search engine optimization (SEO) is similar to PPC search engine marketing, except with SEO the point is to get natural search engine placements that don't cost anything on a per-click basis. SEO is great for new affiliates with more time than money, but it's also not quick.
Being successful with SEO depends on your ability to convince Google and other search engines that your site is one of the most relevant, high-quality sites for a given search phrase. For infrequently searched phrases, it may be very easy to rank well. For valuable keywords of a highly commercial nature, it can be much more difficult to attain high rankings. Regardless, though, there are two basic factors in the calculations done by search engines.
To rank for a particular phrase, a page must first be relevant. That means that the word or phrase in question must appear frequently throughout a site. This can include text on the page, the words in the actual URL, and even file names for images and videos embedded in the page.
The problem with this is that virtually any page on the Internet could include certain words and hope to rank for them. Search engines have to have a way to determine which is most appropriate. That's where external quality indicators come in. Although no search engine will disclose their exact formula, factors like the ones below are taken into account by most:
Number of sites that link to your site
Quality of pages that link to your site
Relevance of pages that link to your site
The anchor text (clickable text) used to link to your site
Frequency and recency of links that point to your site
Social Media:

Social media is an extremely broad area of affiliate marketing that has become increasingly popular in the last few years. This can include a wide variety of promotional methods like the ones below:
Creating a Facebook page to drive traffic to your affiliate site
Creating useful content that includes affiliate links, then submitting that content on sites like Digg, StumbleUpon, Yahoo! Buzz, or Reddit (among many, many others)
Using Twitter to send users to special coupons or offers.
Participating in forums and using a signature with links to affiliate offers.
Using blogs to discuss products and send users to the merchants with your affiliate links
Social sites may not seem the most likely places to promote products or hit people with affiliate offers, but because of the high attention and ridiculously high traffic of these social websites, it can be a great way to make money with only a little effort.
The site below uses social media like Twitter and StumbleUpon to drive traffic to their coupon pages. Because they're providing something useful as opposed to a standard ad, they're able to be successful through social media channels. That's a really key factor, providing some value, not just spamming people with some annoying offer.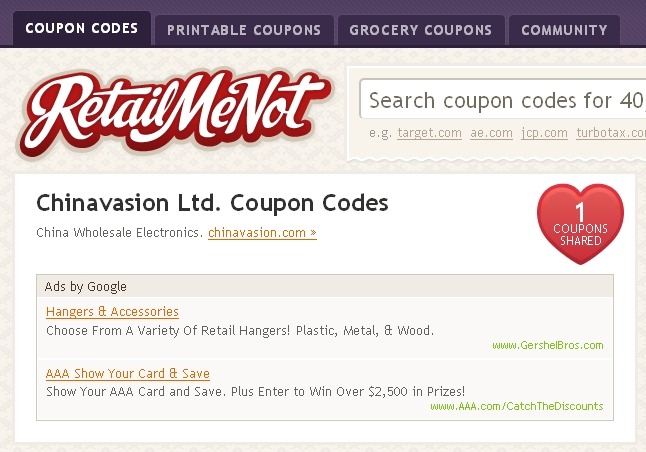 Email:

Email marketing is one of the most difficult methods to build up to, but it's also extremely profitable in the long run. With email, affiliates use a service like aWeber, Constant Contact, or MailChimp to send out mass emails to a group of users who have given them permission to contact them. In most cases, the emails center around a particular topic, and they generally offer information of interest in addition to advertisements.
As long as email affiliates are able to provide value to their list members, they can continue to mail to them indefinitely at a relatively low cost. It's a long term strategy, but if done right is definitely the most powerful.
As you can see, there are many different opportunities when it comes to how you'll choose to promote affiliate programs. The best advice we can give is to find a method that fits your work style, then dive in with both feet. Don't spread yourself too thin, and don't give up too quickly. Success will take hard work in the beginning, but you can definitely do it if you try.