Already Understand How Shareasale Works?
Grab Your Links and Banners Straight Away:
Full Instructions
Once you've successfully signed up as a Chinavasion affiliate, it's extremely simple to add affiliate links and banners to your website. To get started, you'll probably want to open a couple of windows in your favorite web browser (which should be Firefox or Chrome by the way). When you're creating affiliate sites and setting up your promotions, it's extremely helpful to have more than one tab or window open in your browser so you can look at multiple pages at once.
In one window, you'll want to open up the site you're working on. If your site is hosted somewhere like Blogspot or WordPress, you can log into your account and prepare that window to write a post. If you are building your site in a page maker like Adobe DreamWeaver, you may not need a second browser window. (But you will need to open up your FTP client like Filezilla or CuteFTP so you are ready to upload any new or changed pages to your site.)
In the other browser window, you'll want to log into your Shareasale account dashboard. Once here, there are several places you can go to get links or banners for your website.
Click on the "Get a Link/Banner" link to be taken to an area where you can select merchants and get promotional tools. This is a great way to get simple text, banner, or video links. Just use the menu to pick "Chinavasion" from the list of merchants you've been approved to promote.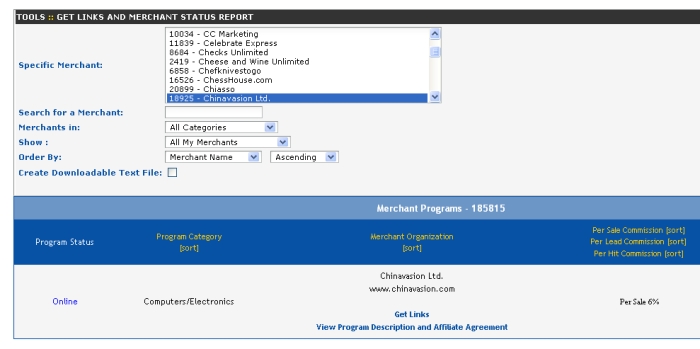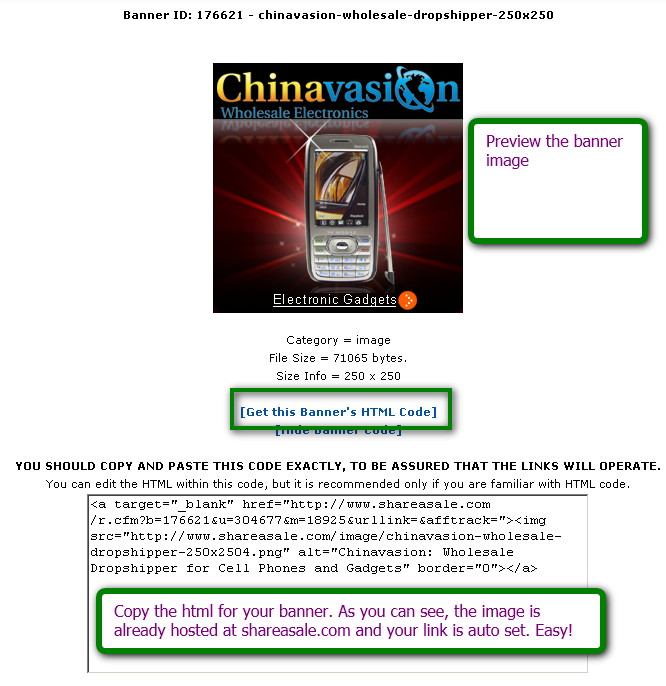 Click on the "Create a Custom Link to a Page" link to build custom links to any page on the Chinavasion.com website. This is especially helpful if you want to promote a new item or something that has been omitted from the main datafeed. This is also extremely helpful if you want to use your own tracking system to assign some kind of keyword or number to each page you link to. That way, you can determine exactly which links were most successful for you.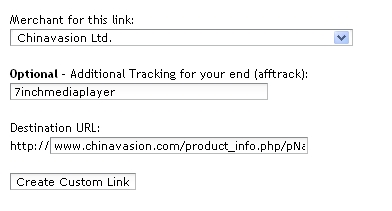 Shortcuts: Visit the Chinavasion affiliates homepage at Affiliates.Chinavasion.com and click on any of the links on the left-hand side. If you're logged into your Shareasale account, these links will take you directly to creative assets for the Chinavasion affiliate program. We've created this area as a handy place to aggregate tips, news, and updates for our affiliates, so even if you prefer to access creatives through the Shareasale interface, it's highly recommended that you visit this page on a regular basis.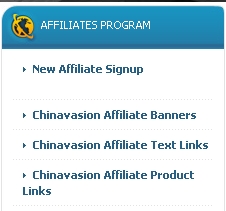 Datafeeds
A datafeed can mean many things. In the case of Shareasale, a datafeed is a csv (comma separated data file) listing all a merchant's products with some key information about each one. The idea is that you have a standard list of products that you (or your programmer) can easily work out how to automatically feed into your website or software. If you are using the datafeed, you just fetch the file (can be automatically) from the Shareasale site, and the merchant (that's Chinavasion) makes sure the data inside is refreshed frequently. The Chinavasion datafeed is refreshed once a week on Fridays.
Because Chinavasion offers a datafeed, you can also use a number of third-party services to help you build affiliate links or even entire websites from the raw data. That means that you can take advantage of the level of product detail provided in the datafeed without actually having any serious programming knowledge.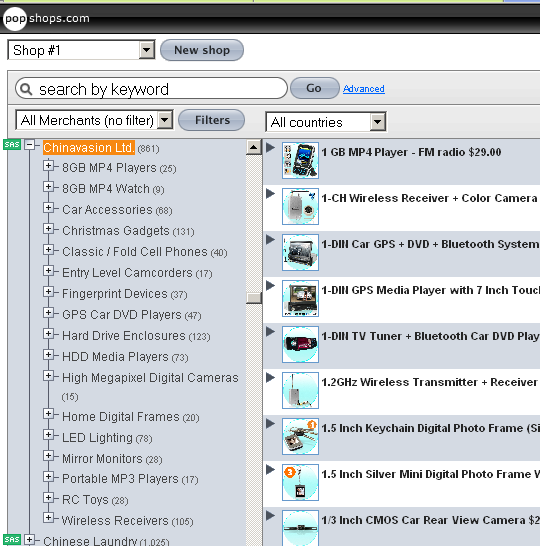 PopShops.com is the simplest datafeed tool, and the basic membership is completely free. By using Popshops you do not yourself need to be approved as a datafeed user in Sharasale, Popshops has already done all of the work for you. By signing up with PopShops, you can quickly and easily build mini affiliate stores and embed them in your website. PopShops also offers extensive support to its affiliates through their sub-forum at ABestWeb.com. If you have any questions at all about how to use their software, their community can help you work out the details.
If you are a programmer, or if you have a programmer who can help you, you can also apply to download the Chinavasion datafeed directly. To do this, just visit the main Shareasale dashboard and click on the "Datafeeds" link. Here, you can quickly search out the Chinavasion program and apply to get direct datafeed access. Because datafeed request are approved manually, you'll need to allow some time before your application is reviewed and approved. Once approved, you'll be able to access the raw file.
Regardless of the method you choose for creating and embedding your affiliate links and banners, it's always important to test them once they're placed. To do this, visit your website and click on the product link. Does it look correct, or do you see a lot of garbled computer code and gibberish? If it's the latter, it could be because something was embedded improperly, or because a character was left off somewhere. Double check everything and try again.
If you're using blog software like WordPress to run your site, the problem could have something to do with the way it displays text and HTML. Check your software to see if there's a special button or tab for entering HTML. You'll typically see something like this on the post composition window.
Once your links look correct, you should make sure they function as desired. Be sure to click on each one to make sure they take you to the Chinavasion website. Far too many affiliates have lost money because they failed to check that their links were still working. This can occasionally happen with affiliates who use datafeed or single product links, as links for products that have been discontinued may no longer function.
As you can see, there are a ton of different ways to access your affiliate links and creatives. If you have any trouble at all, please feel free to get in touch with us.