The home-grown Chinavasion Affiliates Program is being closed at the end of November 2009 in favor of exclusively using the Chinavasion merchant channel in Shareasale.
If you are an existing affiliate of Chinavasion inside the "old" system you need to change your links and get inside Shareasale as soon as possible, before the deadline. When you continue your great promotional work through the Shareasale system you'll find it's easier to use and gives you more real-time data to help optimize your campaigns.
The Chinavasion merchant channel in Shareasale is already there, so please sign up and learn the ropes now!

Key Points To Note

The link building and tracking system at Affiliates.chinavasion.com will no longer give you commission after 30th November 2009
All Affiliate accounts will get accrued commissions paid out in full on that end date.
The Chinavasion Shareasale channel is already running beautifully so you can already switch over any time.
It's open to everyone to join free and instantly.
You still get the same great 6% commission rate, 30 day cookie period.
The 1% second tier commission still works.
You can get paid by direct deposit in many countries. Payment is automatic and always on time.
To continue / start as a Chinavasion Affiliate from now on you should register at Shareasale.com as an Affiliate and sign up (free) to the Chinavasion Merchant Channel

PS – You get a datafeed of all Chinavasion's products inside Shareasale – hurray!
What is Shareasale?
Shareasale is the second largest affiliate system in the world. Literally thousands of merchants run their affiliate programs through the central Shareasale system, including many famous brands and huge online retailers.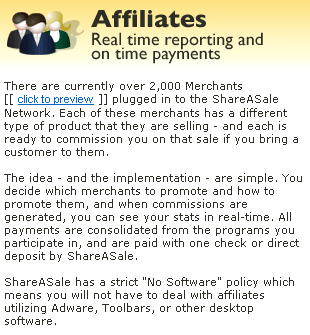 Shareasale's own introduction for Affiliates. You can
consolidate commissions from lots of programs into one, meaning
more commissions adding up and faster payouts!
Key Points About Shareasale
Shareasale is trusted, stable, and easy to use. You can sign up free with no obligations.
Inside Shareasale you will find affiliate programs from hundreds of different merchants, not only Chinavasion.
Making links is really easy, it's all automatic after you're signed in, which is much simpler than the old Chinavasion manual link building
You can get all your metrics inside Shareasale including per order statistics and averages such as click through rate and conversion rate. You can even see how Chinavasion measures up against other similar merchants.
Their system is amazing but their help documents are not, so watch this space, we will produce more information about how to take advantage of the Shareasale money-making opportunities!
Existing Affiliates – What You Should Do Now
Existing affiliates will not be automatically transferred into the new system. You need to sign up at Shareasale if you are not already a member there.
After the switch at the end of November 2009, your old links will not work any more, you need to build new ones.
You will get email notifications from Shareasale that your registration was successful and that your application to join the Chinavasion channel was approved.
Any Chinavasion Affiliates widgets you have built will run for a while but quite soon after will stop displaying properly. Please replace them with banners, text links (including categories), or product links.
Everything else is exactly the same as before, the same terms and conditions and the same great 6% commission…. Just a lot easier to use!